Quick Look for Volunteer Emergency Responders: A Guide For Aiding Persons with Disabilities will help responders save lives and keep persons with disabilities in their comfort zones.
………………
Persons who might use the Quick Look are teachers, individuals, church teachers, staff and ushers, Red Cross volunteers, CERT responders and businesses and institutions developing plans for volunteers to use in emergencies. This book is not intended to replace professional responder manuals, but it will be a resource for professionals.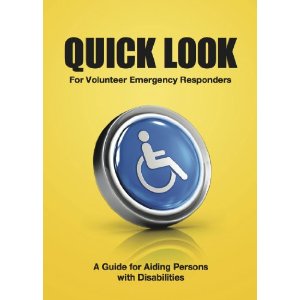 Reviewed ahead of time and carried in a pocket or backpack or quickly found on a desk, Quick Look provides guides for helping a person who is homebound, vision, hearing or mobility impaired, mentally ill, non-verbal, intellectually disabled or having a seizure.
Quick Look for Volunteer Emergency Responders, A Guide for Aiding Persons With Disabilities does the following:
Tells a responder how to communicate, assess and respond quickly.
Provides picture boards for use with persons who are non-verbal or use English as a second language.
Gives instructions for rescuing persons who are homebound.
Gives the responder guidelines for dealing with seizures.
Includes safe procedures for post-emergency rescue.
Provides back cover identity tag for responder.
Fits easily in a pocket  (5 x 7).
Is quickly found on a desk because of its bright yellow cover.
17 pages, descriptive graphics, durable plasticoat pages with plasticoil binding.
New from Ramps'nthings Press.
ISBN: 978-0-578-0955-3
$7.00
Available: Amazon.com