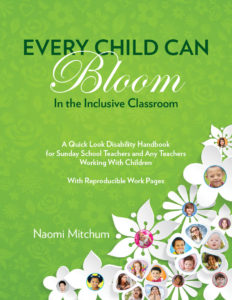 EVERY CHILD CAN BLOOM IN THE INCLUSIVE CLASSROOM offers you ways to organize and teach in a comfort zone where everyone can bloom.
This amazing handbook features
Many practical teaching tips and hands on practices
Options for creating types of inclusive classrooms
Spiritual Formation with children
Group dynamics and socialization in the classroom
How to prevent and calm sensory overload
Safety and equipment
Characteristics of children with disabilities
27 ways to use a story
Information for mentors
Intentional church policy
Parent relationships and information
Reproducible work pages
ISBN 978-0-692-46459-5
Ramps'nthings Press
9 x 11 saddle stitched  for reproducibles
Available now. Use Contact Us to purchase, we will ship to you.
Price: $18.00 +shipping and handling.